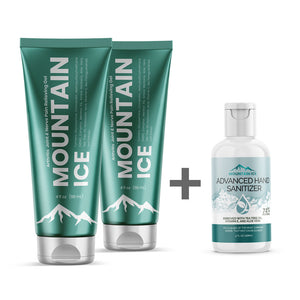 Mountain Ice Pain Gel has taken the active ingredient of menthol and combined powerful natural plants and extracts to create a formula that reaches pain at the source. It's the perfect blend of rich ingredients designed to relieve pain, reduces inflammation, improve circulation, and promote better muscle and joint healing.
Benefits:
Reduces

 

Inflammation fast

Excellent on Arthritis, Joint, and Nerve Pain

Unique formula that soothes pain fast
Last 5 times longer than most competitors
Absorbs deeper and reaches pain at the source
No Sticky residue
Made with Natural Ingredients
Gluten-Free
Power Anti-inflammatory properties
Made in USA by a Family-Owned Small business
Also relieves neuropathy, restless leg syndrome, fibromyalgia and multiple sclerosis. Gluten free and safe for Celiac Disease.
It's ALL About the Ingredients inside

Menthol - helps enlarge blood vessels and improve blood flow.
Turmeric - powerful anti-inflammatory and antioxidant for joint pain.
Glucosamine - improves cartilage flexibility and helps promote cartilage rebuilding.
MSM - reduces joint pain, reduces inflammation, and promotes speedy muscle recovery.
Chondroitin Sulfate - helps enhance shock-absorbing properties of collagen and retain cartilage water.
Camphor - improves blood circulation and helps detoxify muscle tissue
Vitamin E – moisturizes the skin and promotes healthy skin renewal
Aloe Vera  - provides soothing relief and nutrients nourishe the skin
Tea Tree Oil – antiseptic that cleanses the skin and reduces bacteria
Hyaluronic Acid - rejuvenates moisture by binding water to skin cells while lubricating joints.
Arnica Montana Flower Extract – reduces swelling from injury and increases mobility in affected joints.
Ilex Paraguariensis Leaf – helps stimulate circulation and encourage healthy cell production.
Pain Type:
Toes are painful and I feel like I'm walking on bubble wrap.
Neuropathy relief
I tried it but didn't think a cream could help with the pain but I was pleasantly surprised to find that it numbs it which helps at bedtime