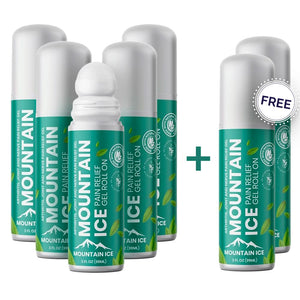 Mountain Ice Arthritis, Joint and Nerve Pain Relief with roll-on dispenser makes it easy to apply Mountain ice without the mess.

Mountain Ice Pain Gel has taken the active ingredient of menthol and combined powerful natural plants and extracts to create a potent formula that reaches pain at the source. It's the perfect blend of rich ingredients designed to relieve pain, reduces inflammation, improve circulation, and promote better muscle and joint healing.
Unique formula that soothes pain fast
Made with Natural Ingredients
Gluten-Free pain relief gel

Excellent on Arthritis and Joint Pain
No Sticky residue
Last 5 times longer than most competitors
Anti-inflammatory
Absorbs deeper and reaches pain at the source
Menthol - helps enlarge blood vessels and improve blood flow.
Turmeric– powerful anti-inflammatory and antioxidant for joint pain.
Glucosamine – Improves cartilage flexibility and helps promote cartilage rebuilding.
MSM – Reduces joint pain, reduces inflammation and promotes speedy muscle recovery.
Chondroitin Sulfate  Helps enhance shock-absorbing properties of collagen and retain cartilage water.
Camphor  Improves blood circulation and helps detoxify muscle tissue
Vitamin E - Helps support immune system, cell function, and has anti-inflammatory properties.
Aloe Vera – as a calming effect that reduces itching and inflammation
Tea Tree Oil - Reduces redness and swelling, while relieving sore, tight muscles
Hyaluronic Acid – Rejuvenates moisture by binding water to skin cells while lubricating joints.
Arnica Montana Flower Extract – Reduces swelling from injury and increases mobility in affected joints.
Ilex Paraguariensis Leaf – helps stimulate circulation and encourage healthy cell production.
 ***Proudly Made in the U.S.A by a SDVOSB***  Family Owned and Operated company located in Upstate New York.
Brand: Mountain Ice Pain Relief Gel
Melting the Pain Away with Mountain Ice
Menthol 5% ……………………… Cooling Pain Relief
Pain Type:
Arthritis, neuropathy, and aches and pains from thinking I can still work like I did 50 years ago!
Wonderful relief!
This product is pleasant smelling, non-greasy, and dries quickly. It penetrates well to relieve aches and pain due to neuropathy, arthritis, and overworked muscles. I'm so glad I found this, and now am wondering what to do with my old lotions and potions that aren't as effective!
Pain Type:
Osteoarthritis knees, shoulders, hands, wrists and neck.
Can't function without it.
Can't function without it.
Pain Type:
Rheumatoid arthritis
Mountain Ice for arthritis
This really helps relieve my joint pain. My only complaint is the safety cap on the roll on can be difficult to open due to my arthritis.
Pain Type:
Lower back, 2 bad knees and neuropathy
I have found Mountain Ice to relieve pain in my lower back and knees.
Pain Type:
Knee, hip and back
Great stuff
I use this all the time it helps a ton
Pain Type:
Arthritis and neck headaches
Lower back and neck pain
My choice for lower back and neck pain is mountain ice. This works best for my arthritis pain. It also keeps my neck headaches away.
Use almost daily on my shoulders and it works great!